Our Listing Strategy
Please set a time to meet with us so we may fully demonstrate our exclusive listing program. Below is a small portion of the listing program.
Pricing the home correctly. There is an art to pricing a home correctly. Mastering the art of pricing takes years of experience and thousands of successful home sales. You do not want to over price the home causing your home to sit on the market too long. This can cause your home to be stigmatized and in the end a lower price is obtained. On the other hand, you do not want to under price the home and leave thousands of dollars on the table.
Staging consultation to increase the presentation of your home.
Internet marketing blitz on hundreds of the most powerful websites including Zillow, Trulia, Yahoo, Realtor.com, MSN, RE/MAX.com, Google.com and more! We even advertise your home on our competitors websites.
Professional virtual photo tours on all websites and MLS listings.
Unique website for your home with custom domain specifically for your home.
Highly visible sign management campaign to direct traffic to your home.
Social media campaign. Your home will be marketed with professional photography on Facebook, Instragram and Twitter.
Optional, not required, open houses. Many sellers today prefer the benefits of showing by appointment only
Professional hard stock color brochures. (Learn more)
Custom app for your smartphone for showing notifications and feedback. This allows you to keep track of the activity on your home in real-time. (Learn more)
Secured lockbox system that logs all who access your home.
Mass email campaign marketing your home to top producing agents.
Comprehensive bi-monthly market recaps showing how your home compares to the competition.
Contract negotiation expertise. Statistically we can prove our sellers negotiate less and sell faster than the average agent you can hire. In addition, negotiating a contract is not just about the price. There are many other factors to consider such as buyer's financing, appraisals, inspection contingencies and home sale contingencies. Our years of experience and thousands of successful closed transactions will give you the competitive advantage.
Latest computer and scanning technologies. At the end of the transaction all pertinent documents will be given to you in an electronic storage device so you can truly be "paperless".
A full time marketing team with multiple college degrees:

B.S. in Marketing from the University of Maryland
B.S. in Marketing from Penn State University
M.B.A. from the University of Maryland
B.S. in Computer Science from University of Maryland
M.S. in Computer Science from Hood College of Maryland
B.S. in Business Administration from NYIT
B.S. in Business Administration from Clarion University of Pennsylvania
B.S. in Business Administration from Stratford University
B.S. in Business Management from Towson University
Technology Driven Marketing
It is a fact, 95% of buyers search for homes on-line, according to a 2017 NAR study. Marketing real estate has evolved and now more than ever you need a Realtor who knows technology. Staging, professional photography, extensive internet postings and social media are just some of the aspects that need to be considered. Please meet with us so we can further demonstrate all the technological advancements we offer and statistically prove our competitive agent!
Our Listing's WWW Exposure
You property will be listed on 100's of Real Estate Websites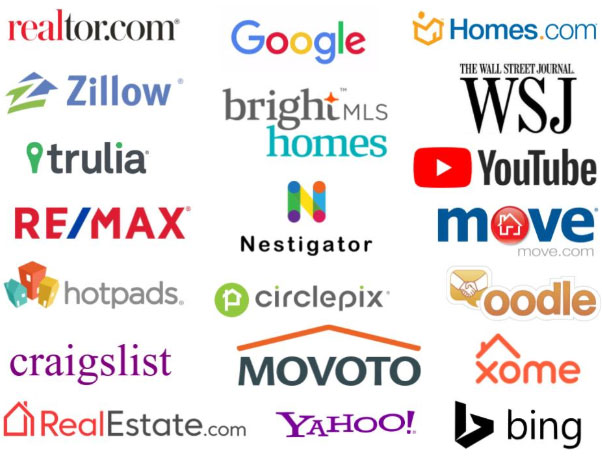 Showing Registry
We use technology to keep you in the loop at all times.
Each time your property is shown, it is logged in your showing report. In addition, we request and post feedback from the agent showing the property. This feedback is posted in real-time for you to view.
Here is an example showing report

Listing Brochures
We provide professionally printed custom brochures on heavy card stock for all of our properties.